The Suez Canal Authority Values Offers of International Aid in the Floatation of the Grounding Container Vessel


26 March 2021


In connection with the ongoing efforts to dislodge the container ship that ran aground during its passage through the Suez Canal, the Suez Canal Authority (SCA) values the offer of the United States of America to contribute to these efforts, and looks forward to cooperating with the U.S. in this regard in appreciation of this good initiative which confirms the friendly relations and cooperation between the two countries.

Furthermore, the SCA expressed sincere gratitude for all the offers it received for assistance in this regard; while also highlighting the ongoing efforts towards re-floating the container ship, and affirming its keenness on ensuring regular global maritime traffic in the Suez Canal as soon as possible.



Image by Suez Canal Authority


Continuing the Floatation Works of the Grounding Vessel in the Suez Canal

25 March 2021

Admiral Osama Rabie, Chairman and Managing Director of the Suez Canal Authority has announced today; Thursday March 25th, 2021, that navigation through the Suez Canal is temporarily suspended.

That is only until the floatation works of the large Panamanian container vessel EVER GIVEN; that ran aground at the 151 km area (Canal Marking), are complete.

His Excellency has declared that yesterday witnessed the transit of 13 vessels from Port Said, among the Northern convoy, that were expected to continue their transit through the Canal according to projections on the time of completion of the floatation works of the grounding vessel.

However, an alternative scenario had to be adopted; which entailed those vessels dropping anchor in the Bitter Lakes waiting area, until navigation can be fully resumed after the floatation of the vessels.

The floatation efforts included towing and pushing the grounding vessel using 8 large tugboats; largest of which is BARAKA 1 with a towing power of 160 tons.


Images by Suez Canal Authority
Image by Suez Canal Authority
Image by Suez Canal Authority
Image by Suez Canal Authority
Image by Suez Canal Authority
Image by Suez Canal Authority
Image by Suez Canal Authority
Image by Suez Canal Authority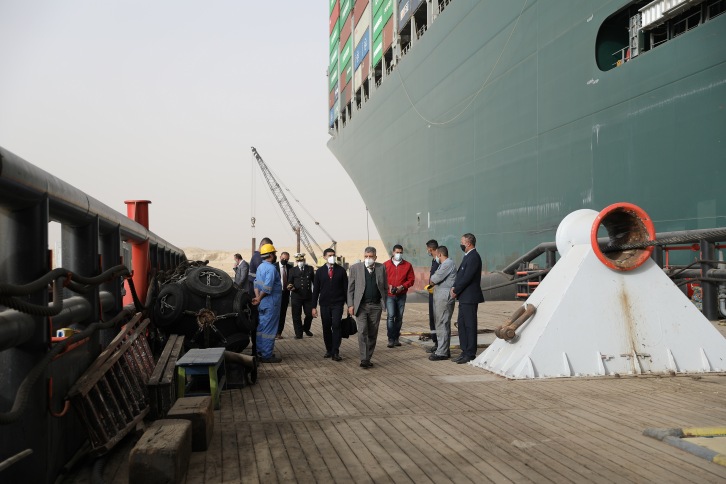 Image by Suez Canal Authority
Suez Canal Authority press release