Wärtsilä's advanced simulator technology will enhance training capabilities at new maritime educational centre to prepare highly skilled future mariners

18 April 2023

Technology group Wärtsilä will supply a new maritime educational centre with a simulation training lab equipped with the most sophisticated technology available.

The centre, located on the island of Donsö in Sweden, has been developed by Swedish shipping company Furetank. It will provide state-of-the-art simulation services, allowing crews to receive training, assessment, and certification. The order with Wärtsilä was booked in February 2023.

Wärtsilä has designed the simulation lab to address the very latest developments in operational equipment and systems, the facility can accommodate 14 students at one time. Physical simulation bridges are combined with virtual, augmented, and mixed reality applications. Together, they create highly realistic learning environments for navigation, manoeuvring, docking, cargo handling and safety procedures. The system also replicates and teaches the correct way to utilise new ship technology, such as shore power connections or LNG/PBG bunkering.

"Until now, the lack of access to simulator technology has been a bottleneck for us and many other fleet operators. New vessels are being ordered and manning them with fully trained and competent crews is a challenge, which is why this centre is so important," says Jonas Gunnarsson, Personnel Manager at Furetank. "Thanks to Wärtsilä's technology, we can simulate 50 ship models, from pilot boats and cruise ships to tankers and towboats. Fairways for various ports can be navigated on the system, and we can simulate moving through ice or rough seas, the possibilities are endless."

"Among the many features of this simulator facility, the ECO module is one of the most relevant. This is a proven tool to practise eco driving, the means for determining the most energy efficient way to operate a vessel. This training will play an important role as the maritime sector works to decarbonise its operations," says Steffen Fäldt, Area Sales Manager for Wärtsilä in Scandinavia.

The Wärtsilä equipment includes a full-sized class A navigational bridge simulator using nine portrait-mounted and one landscape-mounted rear view 75 inch displays, giving a 240 degree horizontal view and good vertical height. Furthermore, there will be a virtual reality bridge and bridge wing, a tug simulator, and an engine room simulator including a virtual machinery space.

The centre will be operational from summer 2023.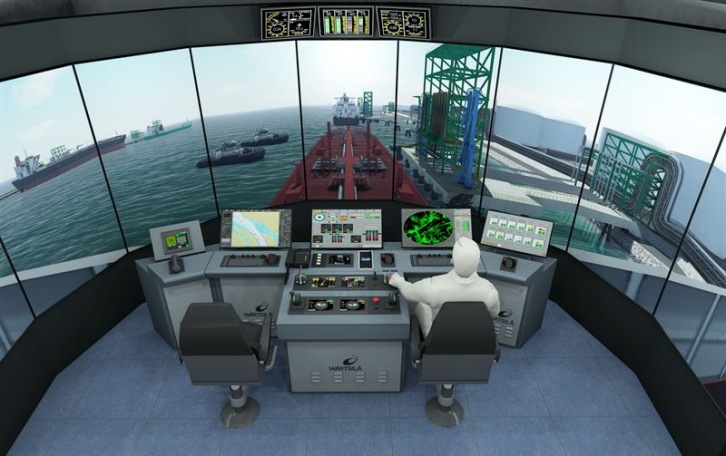 The equipment includes a full-size class A navigational bridge simulator using nine portrait-mounted and one landscape-mounted rear view 75" displays, giving a 240 degrees horizontal field of view and good vertical height. © Wärtsilä Corporation

Wärtsilä in brief:
Wärtsilä is a global leader in innovative technologies and lifecycle solutions for the marine and energy markets. We emphasise innovation in sustainable technology and services to help our customers continuously improve their environmental and economic performance. Our dedicated and passionate team of 17,500 professionals in more than 240 locations in 79 countries shape the decarbonisation transformation of our industries across the globe. In 2022, Wärtsilä's net sales totalled EUR 5.8 billion. Wärtsilä is listed on Nasdaq Helsinki.

Wärtsilä Corporation press release